In the bustling rhythm of life, there's something truly special about gathering with friends, family, or colleagues over a tasty meal. It's in these moments that bonds are strengthened, laughter echoes, and memories are crafted.
Houston TX Hot Chicken (HHC) understands the magic of these gatherings, and they have created a dining experience that's perfect for groups looking to savor every moment.
Whether you're celebrating a special occasion, planning a social get-together, or hosting a business meeting, HHC has all the ingredients for dining groups.
So, pull up a chair, and let's all go on a flavorful adventure together where every bite is meant to be shared, and every moment is cherished.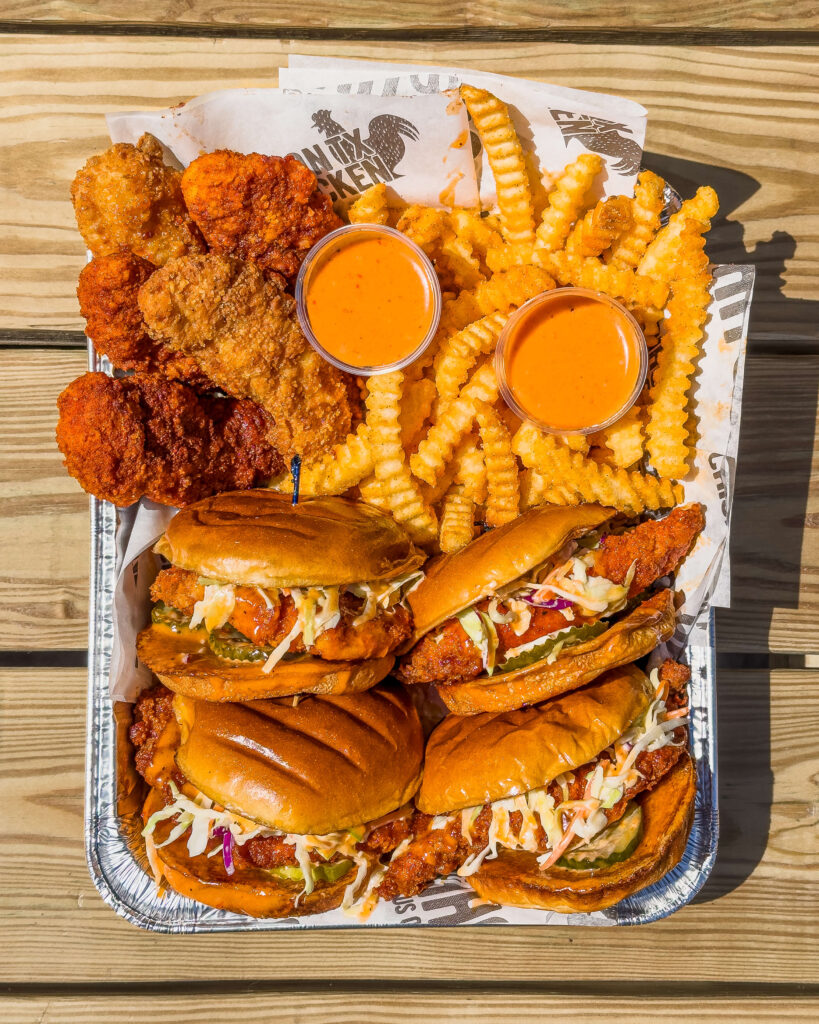 Group-Friendly Atmosphere: Creating a Welcoming Space
HHC isn't just a restaurant; it's a flavor-packed playground for groups of all sizes. They have crafted an atmosphere where you can let your hair down (or tie it up, no judgments here) and simply have a blast.
Think of it as a culinary carnival, with the scent of hot chicken in the air and laughter filling every corner. The vibrant space is designed for sharing stories, raising toasts, and making memories.
Customized Group Menus: Tailored Meals for Your Party
If you are looking for dining for groups, HHC's group menus are like fashion tailors for your taste buds. HHC believes that every group is unique, and your meal should reflect that. From sizzling hot chicken platters to crispy fries, they've got you covered.
Ever seen a platter that looks so good you want to take it to prom? HHC's customized group menus are like the prom kings and queens of dining, perfectly dressed and ready to impress.
Platters That Make Every Gathering Pop
When it comes to group dining, HHC believes in turning every meal into a memorable event. That's why HHC's platters are designed to do more than just satisfy hunger – they're here to make your gathering pop with flavor and fun.
Original Party Package (Serves 10)
Imagine a feast fit for a hot chicken king or queen – that's what HHC's Original Party Package is all about. It's the crown jewel of group dining, featuring 5 mouthwatering Original or Cheesy Hot Chicken sandwiches, 10 tender chicken delights with your choice of spice level, a generous helping of large fries, not one but two large sauces for dipping, and to sweeten the deal, 10 assorted cookies that'll have everyone reaching for seconds.
You've got a group of 10 hungry diners? No worries, HHC has got you covered. This package is not just a meal; it's an experience that'll have everyone in your group declaring you the party planning hero.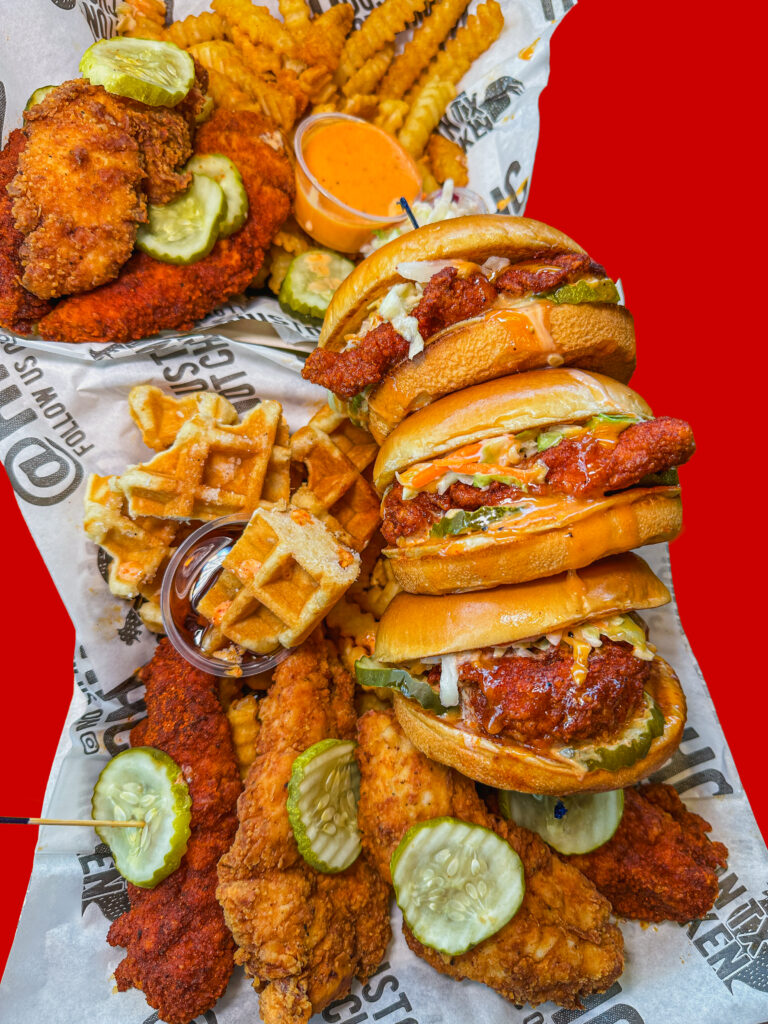 Waffle Tray (Serves 10)
Want to add a bit of breakfast flair to your gathering? HHC's Waffle Tray is the perfect choice. With 10 waffles and your choice of 10 sauces, it's like having a breakfast bonanza right on your table.
Whether you're hosting a brunch, a breakfast-for-dinner soirée, or just want to enjoy waffles with a twist, this tray is here to make every bite fluffy, crispy, and absolutely delightful. It's waffle-tastic!
Platters That Steal the Show (Serves 10)
When it's time to make your gathering a flavor sensation, HHC's platters steal the show. These are the culinary headliners that'll have your guests talking about your event long after it's over.
Sandwich Platter (Serves 10)
HHC's Sandwich Platter is a flavor extravaganza that serves 10 hungry guests. It's loaded with 10 Original, Cheese (for a little extra), or Plain Chicken sandwiches that are bursting with flavor.
This platter is perfect when you want to keep it simple yet sensational. It's like a flavor festival, and everyone's invited!
Tender Platter (Serves 10)
If your group can't get enough of our famous tenders, the Tender Platter is your answer. With 20 mouthwatering chicken tenders and your choice of spice level, it's a flavor explosion waiting to happen.
This platter is designed to satisfy the heartiest of appetites while keeping the crowd delighted. It's tender-lovin' goodness for all.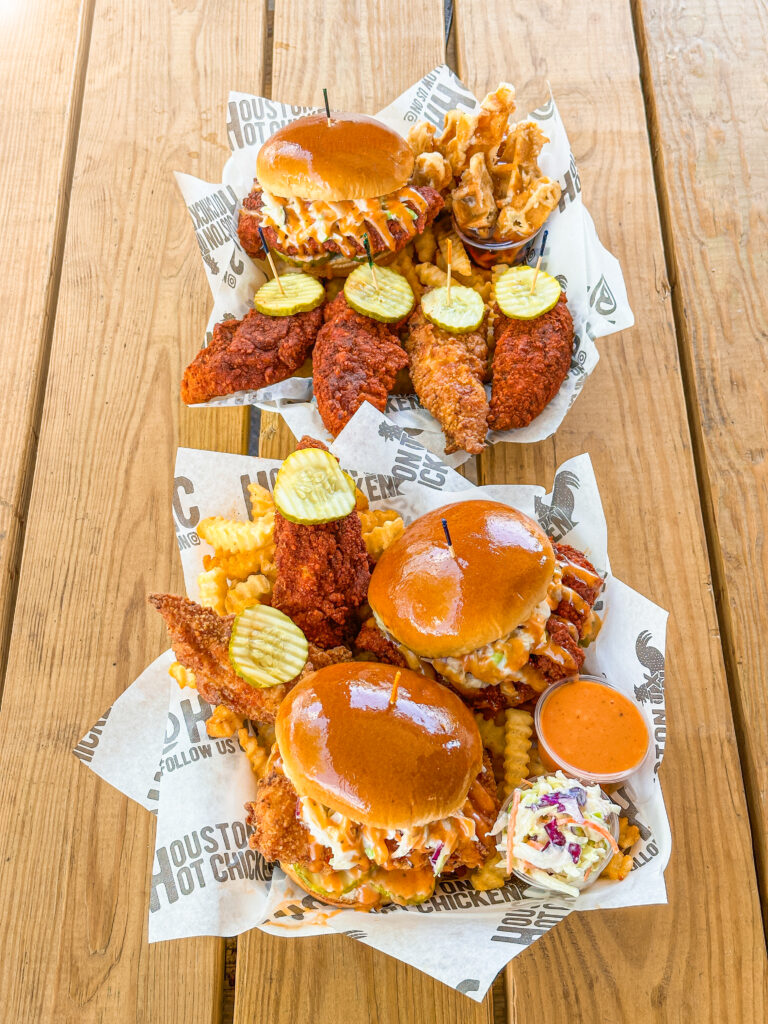 Tender & Waffle Platter (Serves 10)
The Tender & Waffle Platter is the ultimate choice for those who want it all. It's a flavor fiesta featuring 20 chicken tenders and 10 waffles, ready to impress 10 hungry souls.
With a combination this epic, you'll have everyone at your gathering declaring it the flavor event of the year. This platter isn't just a meal; it's a culinary experience worth celebrating.
Get Your Drink On!
In select HHC locations, we've taken the art of pairing to a whole new level with an amazing Beer Menu that's sure to elevate your dining experience. Picture this: as you indulge in our flavor-packed hot chicken or savor our delectable tenders, you can complement your meal with a diverse range of drink options.
From drafts like Truly Wild Beer, Coors Light, and Papago Orange Blossom to draft specialties like Woodchuck Cider, Twisted Tea, and Blue Moon, there's a beer for every palate. But we don't stop there – we also offer bottled beer, bombers, and if you're feeling adventurous, you can even add a shot of vodka to our house-made lemonades. Cheers to a flavor-filled feast!
Efficient Service for Large Parties: Keeping Everyone Satisfied
HHC has mastered the art of efficiency. Their skilled team is like a well-oiled flavor machine, ensuring everyone in your group gets their share of deliciousness without long waits.
You'll be amazed at how smoothly they can handle your large party! And don't worry, they've got enough napkins to go around.
Celebrating Special Occasions: Make Memories at HHC
Got a birthday, anniversary, or promotion to celebrate? HHC is the place to do it! Their lively atmosphere, mouthwatering platters, and friendly staff make every occasion feel like a grand celebration.
Just imagine the look on your friend's face when they realize they get to celebrate with hot chicken and all the fixings. It's the kind of surprise that makes you the party planning MVP.
Catering Services: Bringing HHC to Your Gatherings
Can't make it to HHC? No problem! HHC offers catering services that bring the HHC flavor experience right to your doorstep. It's like having a food truck of flavor show up at your event.
So, whether you're hosting a backyard bash, a team-building session, or a family reunion, they will ensure the hot chicken keeps coming until everyone's stuffed and happy.
Planning Your Group Event: Contacting HHC for Reservations
Ready to gather and savor? Booking your group event at HHC is as easy as pie – or, in their case, as easy as hot chicken In the world of group gatherings, HHC stands tall as the flavor champion. From customized menus to private dining and shareable platters, they have all the ingredients for a memorable time.
So, gather your gang, plan your event, and let the flavor festivities begin.
Written in partnership with Tom White.